Episodes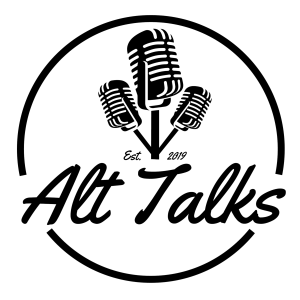 Monday Sep 16, 2019
Monday Sep 16, 2019
We are back at you with Episode 16 of the Alt Talks Podcast! This week Albert Franco of Greensboro, NC math-rock band, Terms x Conditions,  joins us to talk about the band and talk about albums that "Grew on You"! We also go over the week's news in the scene and review new albums from Sept 6th! Albums reviewed and transition songs are listed below! Thank you for coming on the show Albert <3 you rock
Albums reviewed this week are as follows:
Death Cab for Cutie - The Blue EP (Atlantic Records)

Empty - Hope & the Loss of It (Solid State Records)

Grayscale - Nella Vita (Fearless Records)

ROAM - Smile Wide (Hopeless Records)

Sleeping with Sirens - How It Feels to Be Lost (Sumerian Records)

Vitriol - To Bathe from the Throat of Cowardice (Century Media Records)
Transition Songs used this week are below. We own none of the rights to these songs!
"Obsession II" - The Human Condition

"Temporary Fix" - Vantage Blue

"Song No Three" - Terms x Conditions

"Inheritance" - The Burning Wind

"Old Fang" - Khamsin
Follow us on Facebook, Instagram and Twitter @alttalkspodcast
Thank you for listening <3
Also available on iTunes, Spotify, Stitcher and Google Play!