Episodes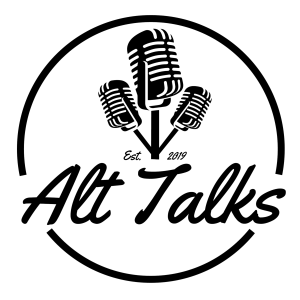 Wednesday Sep 25, 2019
Wednesday Sep 25, 2019
Welcome back to the Alt Talks Podcast; here is Episode 17! This week in the studio we have Annabel Lee, Charlotte NC metalcore veterans! We discuss "Throwbacks" and talk about how Annabel Lee is moving onward and upward with a new vocalist and their re-released EP, "Divided We Stand: Rebirth." We also go over the week's news in the scene and review new albums from Sept 13th! Albums reviewed and transition songs are listed below! Thank you again to Annabel Lee for coming on the show; please go support them <3
Albums reviewed this week are as follows:
- Infant Annihilator - The Battle of Yaldabaoth (RELEASES SEPT 11) (Independent Release)

- Being as an Ocean - Proxy: An A.N.I.M.O. Story (Independent Release)

- Betraying the Martyrs - Rapture (Sumerian Records)

- Korn - The Nothing (Roadrunner Records)

- Microwave - Death Is a Hot Blanket (Pure Noise Records)

- Starset - Divisions (Fearless Records)

- Tiny Moving Parts - Breathe (Hopeless Records)

- Void of Vision - Hyperdaze (UNFD)

- War of Ages - Void (Facedown Records)
Transition Songs used this week are below. We own none of the rights to these songs!
"Fair Enough" - Artica

"Cloudseeder" - Parliament Owls

"Salvation for Sale" - Annabel Lee

"Mourning" - Statis

"What I'm Trying to Say Is…" - Scars of Juliet
Follow us on Facebook, Instagram and Twitter @alttalkspodcast
Thank you for listening <3
Also available on iTunes, Spotify, Stitcher and Google Play!