Episodes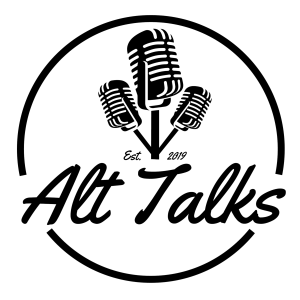 Wednesday Oct 02, 2019
Wednesday Oct 02, 2019
Welcome back to the Alt Talks Podcast! Episode 18 has arrived and is ready for you! This week we hold our first interview over Skype! High Shores from  Fayetteville, NC join us in our "Pen to the Paper" discussion and talk about what's next after releasing their stellar debut single, "Breathe In, Breathe Out." We also go over the week's news in the scene and review new albums from Sept 20th! Albums reviewed and transition songs are listed below! Thank you again to High Shores for taking the time to do an interview with us! Go check em out <3
Albums reviewed this week are as follows:
And Hell Followed With - Chimerical Reality (Hollowed Records)

As I Lay Dying - Shaped by Fire (Nuclear Blast Records)

blink-182 - Nine (Columbia Records)

Capstan - Restless Heart, Keep Running (Fearless Records)

The Number Twelve Looks Like You - Wild Gods (ECA Records)

Selfish Things - Logos (Pure Noise Records)
Transition Songs used this week are below. We own none of the rights to these songs!
"Tilt" - Forever Marked

"Deafen Me" - Birthright

"Breathe In, Breathe Out" - High Shores

"Changing Face" - Shurwood

"Home" - Anxious Hands
Follow us on Facebook, Instagram and Twitter @alttalkspodcast
Thank you for listening <3
Also available on iTunes, Spotify, Stitcher and Google Play!