Episodes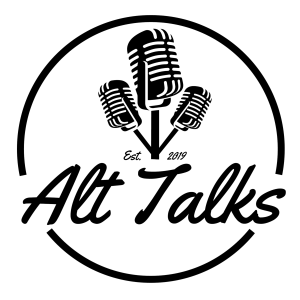 Wednesday Oct 09, 2019
Wednesday Oct 09, 2019
Welcome back to the Alt Talks Podcast! Episode 19 is here and is a LIVE DOUBLE FEATURE! This week we delve into on-scene interviews at the Carolina Uprising Music Festival! We sit down with Silvertung, a alternative rock band from Baltimore, MD, and talk about their latest release, "(But, at What Cost??!)"! We do a slick little follow up interview with all 3 boys in Den of Wolves; who are back on that writing game!! We also go over the week's news in the scene and review new albums from Sept 27th! Albums reviewed and transition songs are listed below! Can't thank Silvertung and Den of Wolves enough for sitting down with us. Go listen to both incredible bands!
Albums reviewed this week are as follows:
Above, Below - The Lotus Chapters (Independent Release)

Car Bomb - Mordial (Independent Release)

Dayseeker - Sleeptalk (Spinefarm Records)

The Early November - Lilac (Rise Records)

Of Mice & Men - Earth & Sky (Rise Records)

Opeth - In Cauda Venenum (Nuclear Blast Records)

Renounced - Beauty Is a Destructive Angel (Holy Roar Records)

SeeYouSpaceCowboy... - The Correlation Between Entrance and Exit Wounds (Pure Noise Records)
Transition Songs used this week are below. We own none of the rights to these songs!
"Smile More" - Go for Gold

"Cleanse" - All Cut Up

"Done My Best" - Silvertung

"Headstrong" - Trapt (lol)

"Love / Family / Friends" - Forest Green
Follow us on Facebook, Instagram and Twitter @alttalkspodcast
Thank you for listening <3
Also available on iTunes, Spotify, Stitcher and Google Play!