Episodes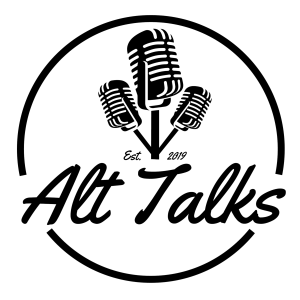 Wednesday Oct 16, 2019
Wednesday Oct 16, 2019
Welcome back to the Alt Talks Podcast! We can't believe we are on the 20th Episode already but lets go! Our close friends in Never I pop in and talk about "Guilty Pleasures" as well as their new single, "To Wander ft. Nich Thomas." We also go over the week's news in the scene and review new albums from Oct 4th! Albums reviewed and transition songs are listed below! Thank you a million times over to Never I for coming and hanging out with us! Go give them your support!
Albums reviewed this week are as follows:
- Bayside - Interrobang (Hopeless Records)

- Kublai Khan TEXAS - Absolute (Rise Records)

- Issues - Beautiful Oblivion (Rise Records)

- The Menzingers - Hello Exile (Epitaph Records)

- Spite - The Root of All Evil (Stay Sick Recordings)
Transition Songs used this week are below. We own none of the rights to these songs!
"Only Drink Clear Water" - Under Clouds and Surveillance

"Stilts" - House Fight

"To Wander" - Never I

"Neglected" - Grieve

"Midnight Oil" - Birthright
Follow us on Facebook, Instagram and Twitter @alttalkspodcast
Thank you for listening <3
Also available on iTunes, Spotify, Stitcher and Google Play!
Editing by Cole Funk (best boy)