Episodes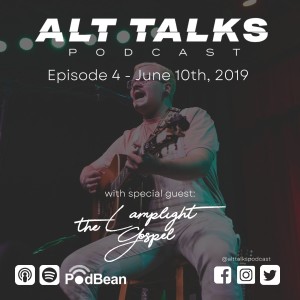 Monday Jun 10, 2019
Monday Jun 10, 2019
Episode 4 is out now! This week the wonderful Corey Parker, known as The Lamplight Gospel, joins us to talk about what heavy music means to us as well as his solo project! We go over the week's news in the scene and also review a few new albums!
Albums reviewed this week are as follows:
- Angelmaker - "Angelmaker" (independent release)
- Cursed Earth - "The Deathbed Sessions" (UNFD)
- Frank Iero and the Future Violents - "Barriers" (UNFD)
- The Gloom In The Corner - "Flesh and Bones" (independent release)
- Osatia - "All in Time" (We Are Triumphant)
- Remo Drive - "Natural, Everyday Degradation" (Epitaph)
Follow us on Facebook, Instagram and Twitter @alttalkspodcast.
Thank you for listening! <3
Also available on iTunes, Spotify, Stitcher and Google Play!